This is one of the InfantRisk Centers studies.  We found that levels of linezolid in human milk are really low.  Good news if a mom needs this drug.   TWH
Title: Transfer of linezolid into breast milk.
Authors: Rowe HE, Felkins K, Cooper SD, Hale TW.
J Hum Lact. 2014 Nov;30(4):410-2.
Abstract: Linezolid, a broad-spectrum antibiotic used primarily for treatment of methicillin-resistant Staphylococcus aureus (MRSA) infections, is the first oxazolidinone approved for clinical use. This is a case report of a 30-year-old woman who was exclusively breastfeeding her infant prior to taking linezolid 600 mg orally every 12 hours to treat a MRSA mastitis. Breast milk samples were obtained over a 12-hour dosing interval on day 1 (after a single dose of therapy) and again on day 14 (at steady state). The relative infant dose at steady state was found to be 15.61% on day 14 of therapy. Using the average concentration at steady state, the estimated infant dose would have been 1.84 mg/kg/day, which is well below the recommended dose given to neonates requiring linezolid drug therapy. The infant did not breastfeed during maternal treatment with linezolid.
Table 2. Area under the Drug Concentration-Time Curve
Parameter Day 1 Day 14
AUC, μg.h/mL 67.76 146.97
Cavg, μg/mL 6.16 12.24
RID = 7.85% and 15.61% at day 14.
Abbreviations: AUC, area under the drug concentration-time curve in
milk; Cavg, average drug concentration across the dose interval; Cmax,
maximum drug concentration across the dose interval; RID, relative infant dose.
Figure: Linezolid Levels in Human Milk.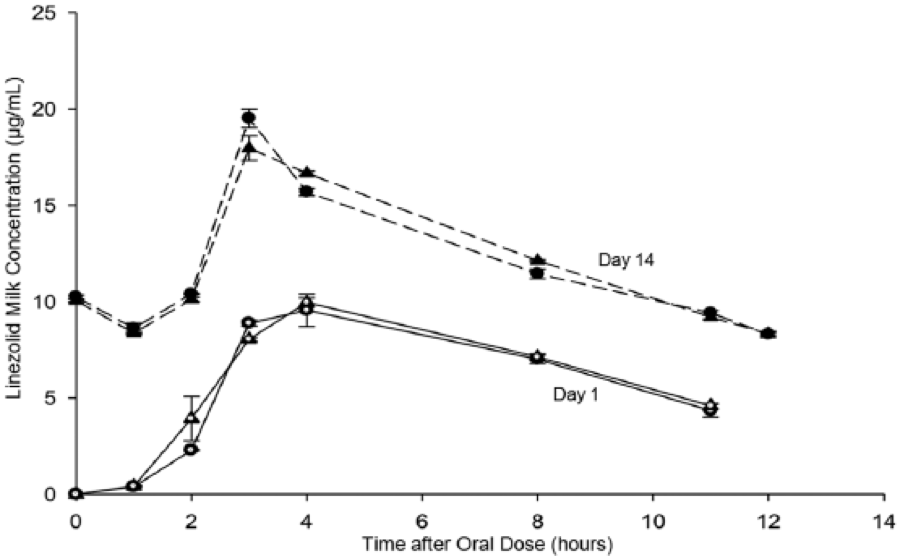 Concentrations of linezolid in human milk at day 1 in left (open circle) and right (open triangle) breasts and at day 14 in left (closed circle) and right (closed triangle) breasts after oral doses of linezolid (600 mg).
PMID 25098610